AccuPac® Frequently Asked Questions
Frequently Asked Questions
Getting Started
How do I get started?
Go to the AccuPac® signup page or call us at (866) 213-9821. It only takes a few minutes to sign up. Please have your current medications and pharmacy information available when calling.
Get Started
Will I need to get all new prescriptions?
No, AccuServ will handle everything. Once you confirm that you'd like to transfer your prescriptions, we will call your old pharmacy and transfer your prescriptions to AccuServ Pharmacy®. If any of your prescriptions have no remaining refills, we will contact your prescriber(s) for a new prescription.
How are my medications packaged?
Your pills come pre-sorted based on the time of day you take them. Each packet is clearly labeled with the medication names and time of dose. Taking your daily medications has never been easier with our easy to use packets! AccuPac® will help you take the right medication at the right time, every time.
How long until all of my medications are filled at the same time?
It may take 1 to 2 months until all of your medications are filled at the same time each month. Accuserv's goal is to have all of your medications filled on the same day so you can begin to see the benefits of the AccuPac® program.
How do I speak to the pharmacist?
You can call us 7 days a week at (866) 213-9821 or email us at hello@accuservrx.com. Our pharmacists are always available to answer your questions.
Medication Management
How can my doctor send prescriptions to AccuServ Pharmacy®?
Your doctor can send prescriptions to AccuServ Pharmacy® at any time via fax at (877) 526-8823, phone at (866) 213-9821 or e-scribe.
What if I get a new prescription from my doctor?
It is easiest to have your physician send any new prescriptions directly to AccuServ. If you have a prescription that you need right away, we will ship you a partial supply to carry you through until you're next AccuPac® is due.
What about medications with frequent dosage changes?
If you have a medication with frequent dose changes, we may put that medication in a separate packet, or send a regular pill bottle with clear instructions. We separate this medication from your AccuPac® to make it easier for you to manage the different doses. We always work closely with you and your healthcare provider(s) to deliver the solution that suits you best.
Where should I get an antibiotic prescription filled?
For a medication like an antibiotic, we recommend filling the prescription at a local retail pharmacy. If you are not sure about how quickly you should start the medication, give us a call at (866) 213-9821. Our pharmacists are always available to answer your questions.
What if I miss a packet or dose of my medication?
Take the missed dose as soon as your remember, if it was close to the time you were to take the medication. If it's closer to your next dose, you should skip the missed dose of medication. For specific questions, give us a call at (866) 213-9821. Our pharmacists are always available to answer your questions.
What about a medication or dosage change?
If your doctor changes your medication, please have them send the new prescription to AccuServ Pharmacy®. When we receive the new prescription, the pharmacist will stop your old prescription and send you enough of the new medication to get you through until you're next AccuPac® is shipped.
Can I get over- the-counter items in my AccuPac?
Yes. We can include vitamins and over-the-counter medications in your AccuPac® along with your prescriptions.
Will AccuServ fill medications like inhalers, insulin, syringes, test strips, eye drops and creams?
Yes. AccuServ is a full-service pharmacy that can dispense medications that do not fit in the AccuPac® packets. We can dispense inhalers, insulin, syringes, test strips, eye drops and creams, as well as your regular prescriptions and over-the-counter medications.
What do you do about medications I take only "as needed"?
These "as-needed" medications (medications not taken on a specific schedule) are sent to you in regular prescription bottles rather than in your daily AccuPac®. Check with your AccuServ pharmacist about specific questions you may have regarding your as needed medications.
What are your business hours?
AccuServ pharmacists are available 7 days a week. Our business hours are Monday -Friday 9 a.m. – 7 p.m., Saturday 9 a.m. – 2 p.m., Sunday 10 a.m. – 2 p.m. EST. After normal business hours, a voicemail line is available for messages and call back.
Refill Management
What if I am out of refills?
You do not need to do anything. We contact your prescriber before your last refill and follow up with the office to make sure your refills are in place when they become due. If your physician needs to speak to you we will make sure you receive the message.
How do I order a refill?
An AccuServ Pharmacy® Patient Care Advocate will contact you a week before your refill is due. During this call, we will confirm that you are still taking the medication(s), that your doctor has not made any changes (dosage increases/decreases or discontinued meds), and ask about side effects. AccuServ will then schedule your on-time delivery.
Quality Control
How is my AccuPac® filled?
We utilize a state-of-the-art, highly precise, automated dispensing system to sort and fill each individual AccuPac®. Our expert pharmacists check each step in the process to ensure 100% accuracy.
Do you check the AccuPacs before they are shipped?
Yes. A pharmacist checks each AccuPac® for accuracy and drug interactions prior to shipment.
How do I know I will get the correct medication?
We guarantee that you'll receive the right medications, every time. If AccuServ is responsible for an error in your AccuPac, we will refund your cost of the medication.
Copays and Insurance
What insurance plans do you accept?
AccuServ Pharmacy® accepts most major insurance plans, including Medicare Part D, Medicaid and commercial prescription insurance plans.
Does AccuPac® cost more?
There is no charge for the AccuPac® service other than standard 30-day copays. We offer the convenient and personalize AccuPac® service with no additional shipping or handling fees.
How much are my copays?
Your copays will remain the same. There is no additional cost to receive your medications in our AccuPac® pill packaging. There are no shipping, handling or extra fees associated with switching to AccuPac®.
Is financial assistance available?
We will work with drug manufacturers and non-profit organizations to find our patients the lowest possible copays. If you need additional assistance please email us at hello@accuservrx.com
How do I pay for my prescriptions?
We accept all major credit cards. Please contact us for alternate arrangements.
Privacy and Security
Is AccuPac® pill packaging considered child-safe?
No. AccuPac® is not child-safe and must remain out of the reach of children.
What is your privacy policy?
AccuServ does not share your information with anyone. See our privacy policy.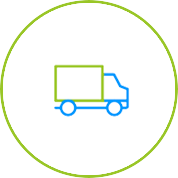 Delivery Services
We understand the importance of getting your medications on time. A late or damaged delivery is more than just and inconvenience. That is why we are committed to providing you with safe and on-time deliveries.
Let's Get Started
AccuServ Pharmacy® has a team of expert Pharmacists who
are always here to answer your questions.