Contact Us
Our Mission is to improve the lives of our patients while ensuring that they can get access to the medications they need.
We Offer High-Touch Services to Help Ensure Better Patient Care.
At AccuServ Pharmacy®, we help make it easier for patients to take the right medication at the right time, every time®. From our exceptional patient communications to our other tools that help keep patients on track, we provide patients and family caregivers a simple way to manage even complex medication regimens with confidence.
We Look Forward To Hearing From You
Whether you're dealing with an illness or chronic condition, it's important to have a support team. Your team includes our trained pharmacists and Patient Care Advocates.
---
Hours of Operation
Monday - Friday:

9:00am - 6:00pm

Saturday:

9:00am - 2:00pm

Sunday:

CLOSED
---
North Huntingdon Location
Phone: 724-978-0110
Fax: 724-978-0089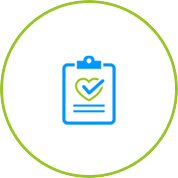 AccuPac® FAQ
Take a look at our AccuPac® frequently asked questions.
Learn More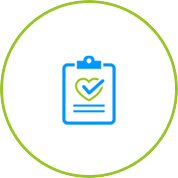 Specialty FAQ
Take a look at our specialty frequently asked questions.
Learn More
Reviews
Michelle
"My mom referred me to AccuServ Pharmacy® and the girls there were very helpful. I spoke to the pharmacist, and she answered all of my questions and was just really wonderful. During this difficult time in our lives, this was the only thing that made me feel better, they are very concerned about my well-being, and I can't thank them enough, the whole staff was wonderful."
Donna
"... I cannot tell you how much your service and dedication mean to me. Please accept my gratitude. I consider myself lucky to be a customer of one of the BEST pharmacies in the world! Thank you AccuServ Pharmacy®!"
Iva and George
"Once again I must express my appreciation for the expeditious manner in which you delivered my recent prescription renewals. Thank you!"
Accreditations
At AccuServ, we are proud of our accreditations. Several of the nation's most prominent organizations have recognized our service excellence.

Accreditation Commission for Health Care
A national organization developed by home care and alternate-site health care industry providers. ACHC's board, advisors, surveyors, and staff are committed to providing the industry with an accreditation program that helps organizations improve business operations, quality of patient care and services.

URAC
For over 25 years, URAC has been the independent leader in promoting health care quality through accreditation, education, and measurement. URAC offers a wide range of quality benchmarking products that reflect the latest changes in health care and provide a symbol of excellence for organizations to showcase their validated commitment to quality and accountability. URAC's evidence-based measures and standards are developed through inclusive engagement with a broad range of stakeholders committed to improving the quality of health care.