Frequently Asked Questions
Getting Started
Why use a Specialty Pharmacy?
A Specialty Pharmacy is part of the patient's care team that helps a patient manage the medications used to treat chronic and often difficult to manage diseases. These conditions are treated with injectable, infused, oral or inhaled medications. These complex and costly medications often have side effects that need to be managed by trained pharmacists and nurses. When you partner with AccuServ Pharmacy®, you will have a team to support your unique medical needs.
Why choose AccuServ Pharmacy®?
Whether you're dealing with an illness or chronic condition, it's important to have a support team. Your team includes our trained Pharmacists and Patient Care Advocates. Our Patient Care Advocates serve as your single point of contact to help manage prescription refills, prior authorizations requests, and co-pay assistance programs Together they will work closely with you to learn your unique needs and expertly help you navigate the complex healthcare landscape.
How do I get started?
Go to the AccuServ signup page or call us at (866)-213-9821. It only takes a few minutes to sign up. Please have your current medications and pharmacy information available when calling.
Get Started
How do I speak to the pharmacist?
You can call us 7 days a week at (866)-213-9821 or email us at hello@accuservrx.com. Our pharmacists are always available to answer your questions
Medication Management
How can my doctor send prescriptions to AccuServ Pharmacy®?
Your doctor can send prescriptions to AccuServ Pharmacy® at any time via fax at (877) 526-8823, phone at (866) 213-9821 or e-scribe to AccuServ.
What if I get a new prescription from my doctor?
It is easiest to have your physician send any new prescriptions directly to AccuServ. If you have a prescription that you need right away, we will ship you a partial supply to carry you through until you're next refills are due.
What about a medication or dosage change?
If your doctor changes your medication, please have them send the new prescription to AccuServ Pharmacy®. When we receive the new prescription, the pharmacist will stop your old prescription and send you enough of the new medication to get you through until you're next refills are due
What if I miss a dose of my medication?
Take the missed dose as soon as you remember. If it was close to the time you were to take the medication. If it's closer to your next dose, you should skip the missed dose of medication. For specific questions, give us a call at (866)213-9821. Our pharmacists are always available to answer your questions.
How important is it to take all of my medication?
It is vitally important that you follow your doctor's directions for your medication(s). You should take the right amount at the right time, for the prescribed length of therapy to get the best results.
We understand that some medications may cause unpleasant side effects or are difficult to take. Therefore, our pharmacists, nurses and Patient Care Advocates are always available to give you practical advice about dealing with these issues.
What are your business hours?
AccuServ pharmacists are available 7 days a week. Our business hours are 9AM - 6PM Monday through Friday, 9AM - 2PM Saturday, and closed on Sunday. After normal business hours, a voicemail line is available for messages and call back.
Refill Management
What if I am out of refills?
You do not need to do anything. We contact your prescriber before your last refill and follow up with the office to make sure your refills are in place when they become due. If your physician needs to speak to you, we will make sure you receive the message.
How do I order a refill?
An AccuServ Pharmacy® Patient Care Advocate will contact you a week before your refill is due. During this call, we will confirm that you are still taking the medication(s), that your doctor has not made any changes (dosage increases/decreases or discontinued meds), and ask about side effects. We will then schedule your on-time delivery.
Copays and Insurance
What insurance plans do you accept?
AccuServ Pharmacy® accepts most major insurance plans, including Medicare Part D, Medicaid, and commercial prescription insurance plans.
Will my copayment change?
Your co-pay will not change when you switch to AccuServ Pharmacy® from a retail pharmacy or another specialty pharmacy.
How do I pay for my prescriptions?
We accept all major credit cards. Please contact us for alternate arrangements.
Is financial assistance available?
We will work with drug manufacturers and non-profit organizations to find our patients the lowest possible copays. If you need additional assistance, please email us at hello@accuservrx.com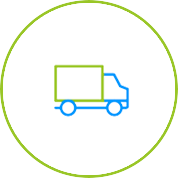 Delivery Services
We understand the importance of getting your medications on time. A late or damaged delivery is more than just and inconvenience. That is why we are committed to providing you with safe and on-time deliveries.