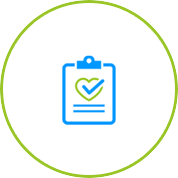 AccuServ Pharmacy® strives to provide a high level of service to our patients.
AccuServ Pharmacy® has crafted its practice to make your medical needs easy to monitor and access. We regularly review and evaluate our practice, and your feedback is an essential part of improving our process.
We appreciate your time filling out this survey to help us better serve you. Thank you for your consideration, and know that all information is kept strictly confidential.
We review surveys on a weekly basis, but if your feedback requires immediate attention, please contact us directly at: hello@accuservrx.com.
---
Survey coming soon!