We are proud to introduce you to the revolutionary AccuPac®. This pill packaging system will help you streamline your medication routine, and the best part is there is no additional cost to you! AccuPac can turn an unorganized jumble of pill bottles into easy to use packets. Read on for all of the great benefits of AccuPac!
Never Wonder if You Took Your Medication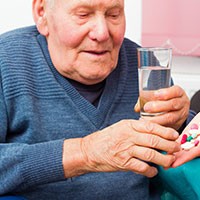 If you are on multiple medications, or even if you only need to take one pill a day, remembering if you have taken it can be a problem. It seems easy enough to think back a few hours and remember, but especially if you take medication every day, the days can blur together and it becomes hard to be certain if you have taken your medication. This can be a big problem. If you are unsure and skip the medication you may be missing a dose. If you go ahead and take a pill and you have already taken one earlier, you risk taking too much. With AccuPac each packet has its own date and time to take the medication. If you are ever wondering, you can just look back at your AccuPac packages to know what the last medication you took was. AccuPac comes in easy, tear-away strips that keep your medication packs together, so you are never looking through a pile of packets to find the next one to take. It is so easy to manage your medication with AccuPac!
Medication While Travelling
If you need to take your medication on the go, whether it is out for the day, or for a longer vacation, you don't want to have to worry about having it organized. Forget the days of having to lug a whole bag of medication bottles, or spend precious time presorting your pills into those plastic containers. AccuPac packages fit neatly into a purse or carry-on bag to streamline your packing on the go.
Increased Organization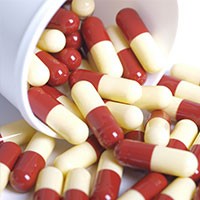 Is your bathroom counter a mess of pill bottles? Do you spend too much time sorting and filling weekly pill dispensers, sometimes spilling your medications or mixing them up? You need AccuPac. Do away with all of the bulky pill bottles that are different sizes and take up much needed counter and cabinet space. Accupac condenses your medications into small, easy to manage packages that come in a tear-off roll. The AccuPac system can turn an armful of pill bottles into one small box, resulting in less clutter. The roll of pill packaging comes in a box that doubles as a dispenser, keeping your daily medications always convenient and easy to access. You want organization in every area of your life, don't neglect to organize your daily medication in the best way possible-with AccuPac!
Never Have to Run to the Pharmacy
With AccuPac, we deliver your prepackaged medication right to your door, every month, in a discreet box. Your shipments always arrive on time, and we monitor to ensure that you receive the medications you need, when you need them. Never wait in line at the pharmacy again, or worry that your medications won't be ready. AccuPac streamlines your entire medication process, and you have the assurance that you will receive the right medications, on time. Simplify your busy life with the innovation of AccuPac!
So if you have been looking for a solution to your medication packaging woes, AccuPac is the answer! Our easy system delivers your prepackaged medication directly to your door, clearly labeled with the date and time you need to take it. Don't count on remembering whether you have taken your medication, utilize AccuPac to keep you on track! Contact us to get started today!